Senior cricketers: SAC vs. Nantes CC
In the senior fixture on Saturday afternoon, SAC batted first and made an impressive 330 for 2 off our 35 overs thanks to 84 from Thodi Anderson and 120 not out from the returning Jon Riches. In reply, Nantes CC was bowled out for just 60 with Said Azam Sadad taking 5-13.

The colts from Nantes proved much too strong for SAC
Despite the overcast skies and frequent rain, one of the highlights of the SAC junior cricket season came this weekend. In the damp conditions, the colts from Nantes proved much too strong for both SAC and LFP Morangis CC, majority sides on Saturday and Sunday.
On Saturday, Nantes batted first in a Twenty 20 match and got off to a flier. Former SAC junior Joris struck the ball with power and placement for the visitors, making nearly half of his side's 94 for 4 in twenty overs. He was aided by a healthy dose of wides from an enthusiastic, but rather depleted SAC junior side that was boosted by several guest players from LFP Morangis CC (especially Ranjiv, who bravely took on the most challenging position in junior cricket: wicketkeeper). Returning at least a foot taller than when last seen for SAC Juniors, Miles bowled full, fast and straight to be rewarded with two wickets and new recruit Shaunak turned his off breaks so much he bowled one of the very few maiden overs of the weekend. The ground fielding more or less held up under the onslaught and going into the second innings, SAC might have held out hope of a famous victory. However, Nantes showed the benefits of that modern T20 discipline, the dot ball. By bowling so many deliveries that the SAC batsmen could not score off (and far fewer wides) the result was never really in doubt. A succession of SAC batsmen were retired out without having scored a run off the bat, but in some cases, it might well have been more of a case of wanting to get out of the rain.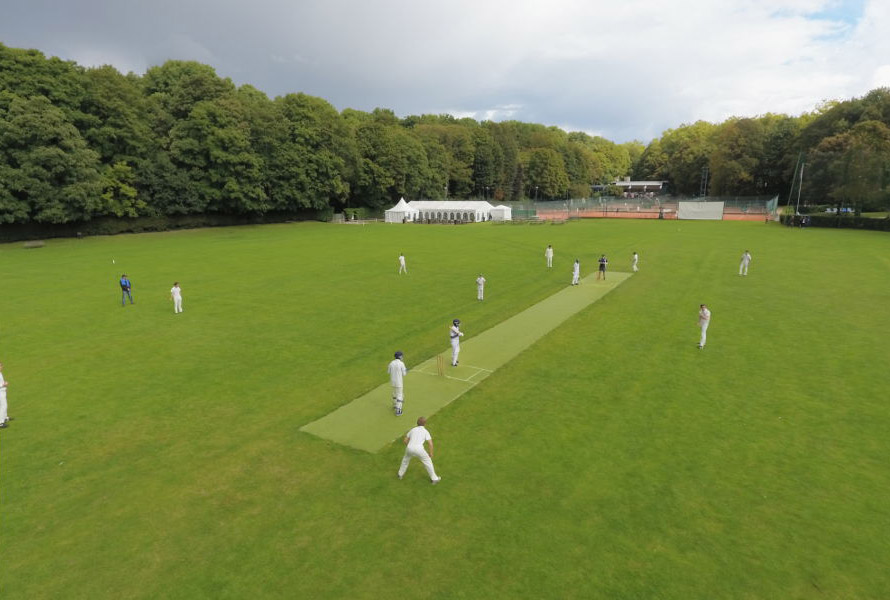 SAC Juniors in action vs Nantes CC Saturday 16th September 2017
Photo courtsey Praneeth Kumar
Following a sumptuous BBQ put on practically single-handed by Paul Willey, the Nantes players were generously billeted by the families of the SAC players. Many thanks to all of you who hosted, or offered to host the Nantes juniors. They were clearly well rested on Sunday morning as, after a shortened softball pairs competition for the few U11s able to make the journey to Thoiry, they set about making hay in the intermittent sunshine. Despite prolonged and painstaking adjustments to the field, former SAC junior Camille showed an impressive power of stroke to rival his brother's. The Nantes total was aided by a healthy number of wides from an LFP Morangis side that also included Nick, Felix and Benoit from SAC. After a slow start, all distinguished themselves in the field: Nick proved to be a tigerish presence at backward point and Benoit cut off several certain boundaries on the midwicket fence. Under the agreed format players batted in pairs for four overs, losing five runs for every dismissal and every member of the fielding side was guaranteed to bowl at least two overs. In the LFP/SAC innings, Felix unfurled a sumptuous sweep shot for the only boundary of the innings off the bat and Nick and Benoit found several innovative ways to manipulate the ball to the third man and midwicket areas for runs. However, Nantes showed once again the benefits of forcing the batsman play to a well-set field and were able to set off for home with their second win of the weekend safely secured before the rain returned for good.
Grateful thanks to John Hardy for arranging our use of the Thoiry ground while the SAC outfield was covered in classic cars. We look forward to welcoming Nantes back next season and hope to make the return trip as well.