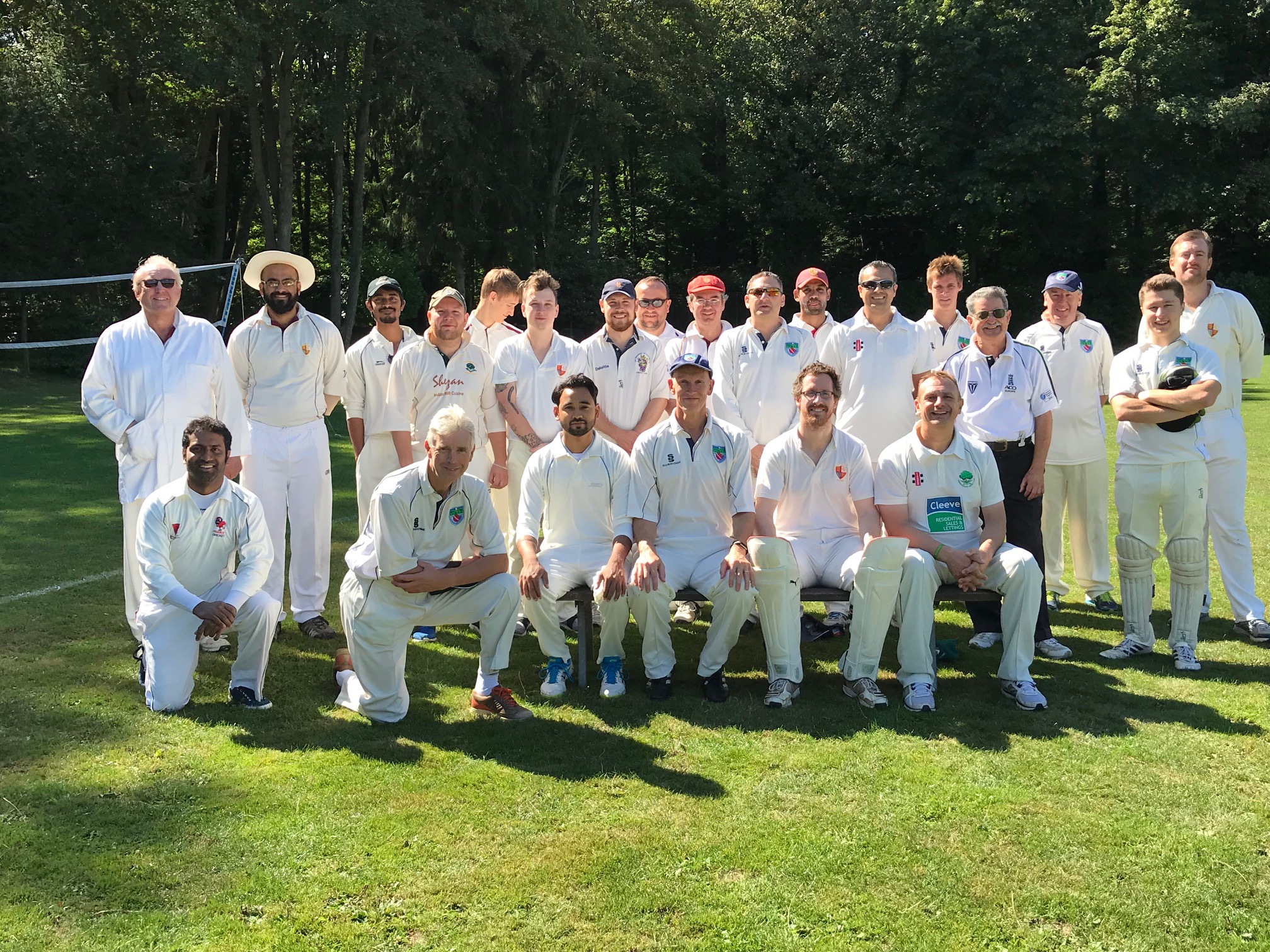 It was a super weekend of cricket as the club hosted the North Cotswold Strollers from Cheltenham for two matches. The Strollers are a combined team from Gotherington CC and Woodmancote CC who we played on tour in Cheltenham last August, and so we were delighted to be able to return the favour and welcome them to Paris and Meudon.
On Saturday, Standard won the toss and elected to bat first in a time match. Some tight bowling early on from the Strollers' openers Tim Hearn and Aaron Bachelor kept run scoring to a minimum, and two wickets soon followed. Alastair Thomas (59) and Jonathan Riches (29) then worked hard to set up the innings for a late charge. Former SAC member Paul Goring returned to his old stomping ground to dismiss Jon with the assistance of an outstanding catch at long-off by Alistair Sharp. This brought the in-form Nisseem Burkule to the crease, and he proceeded to blast a superb 76 off 57 balls and, ably supported by Gaurav Sharma, enabled SAC to declare on 209 for 5 after 41 overs. In response, the Strollers started strongly with a range of cover and off drives flowing from captain Rob Sharp's bat. Halfway through the innings all three results were possible, but once Rob departed for 49 a draw began to look like the most likely outcome as SAC's spinners dried up the runs. John Hardy then entered the fray and produced an outstanding spell of 4-6 off 6 overs to almost snatch the win for SAC. Three wickets fell in the last five overs, including Shan Selvaradjou who had batted well for 45, and suddenly the Strollers had to hang on 9-down for the last two overs. They succeeded thanks to Paul Goring's elegant forward defence, so an honourable draw was achieved. Money Singh (3 wickets) and Jyothy Devaraj (2 wickets) were the other SAC wicket-takers.
On Sunday, a T20 match was played, with SAC again winning the toss and batting first. Henry Colburn got the innings off to a good start with a brisk 30, but wickets consistently tumbled, and once again it was Nisseem Burkule (60 not out) who lifted SAC to a competitive total (147 for 7 off our 20 overs). Paul Goring was the pick of the Strollers' bowlers taking 2-24, with Aaron Bachelor also taking 2 wickets. In reply, Shakeel Ahmad and Abhishek Gulati bowled excellent opening spells to put the visitors behind the required run rate. Tight bowling from Callan Green and Jyothy Devaraj in the middle overs did the same. However, as long as the Strollers' opener Alistair Sharp was at the crease the visitors were always a chance. In the end Alistair fell for an excellent 58, and SAC held on to win by 19 runs.