January 2019 News
First of all, may we wish you and yours a happy and healthy 2019.
This message is just a short reminder of what's happening next week and what to expect later in the month, our regular news cycle should resume at the end of next week.
Monday 7th January - the Club Opens at 9 AM
The new Fitness term starts at 10 (Step followed by Sculpt; contact Pam if you're interested in the potential beginners' Pilates on Mondays at 12.30 )
Tuesday 8th January
Bridge Dinner/Tournament - still some places, so sign up quickly!
Wednesday 9th January
Yoga classes start again at 9.30.
Thursday 10th January
Our Squash teams roar into action in the Critérium Île de France
Sunday 13th January
Sunday Footballers play their first match of 2019
Brunch will be served!
In the evening at 6 pm Oysters and Black Velvet
And....
Saturday 26th January
Please sign up to this traditional SAC event, open to non-members, the more the merrier!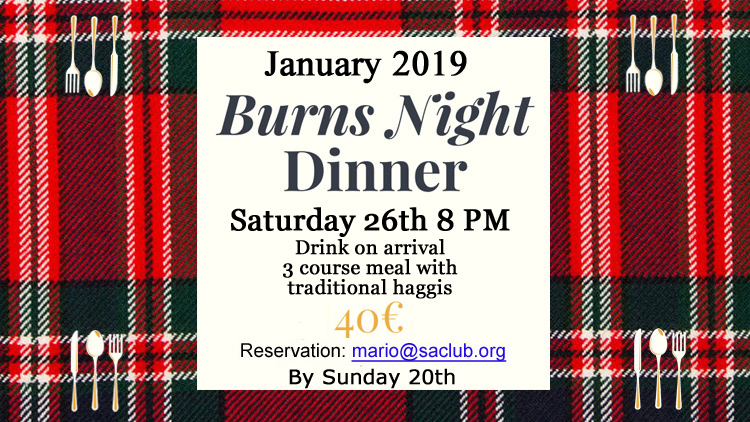 Choice reading from the Website
The next Dinner/tournament evening will be on Tuesday the 8th of January. The Club needs to know by Monday 7th January morning how many we will be for dinner, so we would be most grateful if you could let Anne and Jenny know during the course of the week if you are able to come (). We are still looking for more players!
After a well-earned rest, our teams will be back in action on the 10th of January.
We start the New year with a game on Sunday13th January.
The Centenary Oak reopens on Monday 7th January. Normal Brunch service will resume on Sunday 13th and that evening the first of the Oysters and Black Velvet evenings will feature Prawns, Fish soup, Salmon blinis and Oysters - portions of 6, 9 or 12. (Prices 'selon marché'!)