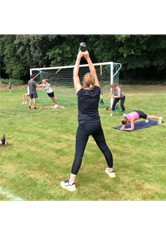 Core Circuit Training is an outdoor workout with coach Lucas Baraud. The hour's workout includes planks, lunges, squats, and other key fitness exercises.
The next Core training series will begin on Saturday 12 March and go on up to and including Saturday 9 April.
The cost of the 5 sessions is €75. The sessions are from 2 to 3 pm on Saturdays. We still need 4 more people to sign up otherwise we will have to close the activity.
Please write to if you would like to sign up for these sessions.