Gym Room
The Standard Athletic Club has a small but well equipped work-out room. For safety reasons, children under sixteen are prohibited from using the room.
You are welcome to come and try out the new equipment. The latest machines have been acquired so as to offer you a more complete selection of working-out possibilities.
Please do keep in mind that the purchase and the maintenance of these machines are very expensive. We, therefore, stress the importance of using them in accordance with their purpose and with care.
Any member who damages the equipment will have to pay for its repair: the purpose of the gym room is to enable any member who feels like it to work out with equipment that is in good condition and clean. Respect for each other should be the priority at all times.
Please help to keep the room clean by removing any dirt from your shoes before entering. Some members like to use the gym barefoot.
The rules for the gym are now posted on the door and inside the room.
The unused equipment and the cupboard have been removed to make more room for the users. Also, a shelf has been fixed next to the coat-hangers for users to place personal belongings during their training sessions.
Step and Body Sculpt Classes - 2 classes in 1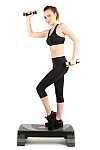 Along with making you a better athlete, aerobic stepping will also benefit your overall health. The intense cardiovascular workout will make your heart and lungs work more efficiently. The calorie burning aspect of the exercise will help you maintain a healthy weight and avoid weight-related problems such as diabetes, heart disease, and joint pain.
Aerobic step classes provide several fitness benefits that can help you in other sports and in daily life. Regular sessions will provide both cardiovascular and muscular endurance. Incorporating both upper and lower body movements together will improve your coordination and agility, and the constant push up onto the step will increase leg strength and strengthen the knee area by working it in multiple planes.
Body Sculpting not only builds strong sculpted muscles but it will also speed up your metabolism and increase your calorie expenditure throughout the day.
This class is offered on:
Mondays - Step at 10 am fused with body sculpting and core work
and
Saturdays - Step at 10.40am

Pilates Classical Mat
In these classes, we combine Pilates Mat with props including Dyna bands, small fitness balls, and Pilates Circles to create unparalleled muscle tone and definition for the core, legs, bum and arms.
Pilates Classical Mat class times:
Mondays

New beginner calls at 12.30 pm (duration 45 min to 1 hour)

Wednesdays:

Beginners at 2 pm
Levels 1 & 2 at 3 pm

Saturdays

Levels 1 and 2 at 9.30 am
Level 1.5 at 11.40 am
Fitness Tip
If you are only taking the Step and Sculpt class once a week or you can't make the classes that we offer here at SAC, think about starting a walking program. It is suggested that you should start off with a brisk 10-minute walk and build up slowly so that you're walking 45 minutes a day at least three to five times a week. Walking is great for general fitness and a healthy heart; it will also tone up your legs and help you burn extra calories (kilos). As always, check with your doctor before starting any exercise programme.
Summary of fitness class times
Mondays
10.00 AM
Step and Sculpt
Wednesdays
2.00 PM
Pilates Mat Beginner/Intermediate
3.00 PM
Pilates Mat Advanced (new)
Saturdays
9.30 AM
Pilates Mat Intermediate
10.45 AM
Pilates Mat Beginner/Intermediate
12:00 PM
Step

Please contact Pamela Hennebert for any additional information.
---
See also our other Fitness options: Bootcamp and Yoga