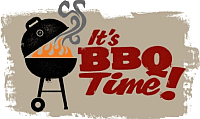 BBQs have now been set up in the Rose Garden. Please book by phone or at the Bar.
Pricing: BBQ: 28€ - includes charcoal and tools; Charge per person (plates, glasses, cutlery): 2.5€; Corkage: wine 4.50€; soft drinks 1€
Closing times are 9 pm from Sunday to Friday and 10 pm on Saturdays.

Mains: Thai chicken with rice, Fresh homemade hamburgers, Spinach/ricotta Cannelloni
Desserts and pastries: Red velvet cupcakes, Tangerine cake, Raspberries almond crumb cake, Chocolate cake, Lemon poppy seed, Cheesecake
As always, all prepared with fresh ingredients by Janine Springall

The next great British Breakfast will be on Sunday the 4th of June. We'll be serving it from 10 am to 2 pm, with meats from Bulldog, Bacon and Bangers.
Non-members welcome.
Bookings are now open using this HelloAsso link:
https://www.helloasso.com/associations/standard-athletic-club/evenements/british-breakfast-brunch-6

… and an opportunity to volunteer for anyone who always wanted to run a Bar!
The Bar and Restaurant is the social heart of our Club. As the Club emerged from Covid, Astrid Ghokassian Freiha stepped forward to lead this activity, as well as our internal events. She has given much time to the Club and achieved an enormous amount. After nearly 3 years of volunteering, Astrid will be stepping back from the Bar and Restaurant after the AGM, sure in the knowledge that the hardest work has been done and we now have great suppliers and contractors in place. We are therefore looking for Members willing to take on the oversight of this activity. If you are interested and would like to learn more, please speak to Astrid (), or Rich ().

Relax, dance and enjoy a low-key Friday evening once a month; next is Friday 30 June from 8 pm to 11:30 pm. Bring something for a sucré or salé potluck The bar will remain open all evening. More info from section heads: Libby Macintyre-Davi, Jan Grondrup, Georgina Marrison