Three full sets and boards are available for members' use. They can be found trailing around in the Club room or lodged behind the reception desk (just ask for one).
Somewhat more serious players prefer to play with a clock* and so as to preserve these highly valuable items they are locked away in a special chess cupboard. To access to these clocks Chess Club Section members are asked to contribute 15€ to get their own key.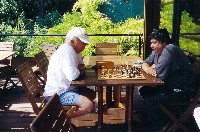 There are only about 10 of us and we would welcome new members as we have big expansion ambitions to overtake some other sections in size!


Members are friendly (yes, really!) and usually ready to play a game with any new arrival, most of us playing 2 x 20 minute games, with others preferring 'blitz' games - though we have no 'blind' players (yet).
We do not play outside matches, with little interest being shown for these weekend tournament obligations, nor have we ever managed to set up or complete any internal tournament or league table. We seem to prefer a less competitive environment.



* There are clocks ... Let's play Blitz